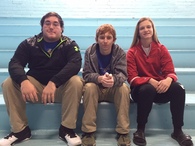 All A's are Justin Perez, Derek Dolbeare, and Lilly Pepper. A's and B's are Geoffery Giles, Kaylee Smith, Samantha Renfrow, Hanna Allen, Deme Batchelor, Allyson Minor, Hannah Cox, Larissa White, Nick Black, Aminah Al-Rawas, Rebecca Giles, Griffin Hall, Delaynie Robinson, Noah Lippincott, Rachel Clowers, Seth Moyers, Trystin Smith, Corby Edwards, and Shannon Hausmann. B average are Erin Mowen, Delaney McEwen, ReBekkah Smith, . . .
Who wants carnations?! Pleasant Hill Student Council members are selling carnations for anyone in the local area. You can go to, or call the school and order them. You can also find a student council member and get a form from them. There are only 400 red carnations. If you would like red carnations, be sure to tell whoever you are ordering from so they can reserve them for you. Others will be assorted colors. The prices are 1 for . . .
This years National FFA Week is February twentieth to the twenty-seventh. Many different FFA chapters around the country participate in this special agricultural week. In past years, Pleasant Hill FFA celebrated FFA week similar to how homecoming week is celebrated. Last year there was a pie eating contest, an inside fishing tournament, hat day, Carhartt day, and many others. This week is a great way to promote FFA to our . . .
Current Highlights