The 2015-2016 school year is off to a great start. There are a few new faces in our buildings this year, with the addition of two new kindergarten teachers and a new third grade teacher. Also new this year are three new students who will be taking over the role of adding articles and pictures to our school website. So, be on the lookout for upcoming news! As in the past, if you have information you would like included on the website, please send to Christy Riddle at riddle.phhs@gmail.com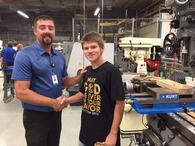 A group of 22 juniors and seniors from Pleasant Hill High School attended the John Wood Community College Manufacturing Expo Friday, Sept. 25 th . The students toured Gates Air, a Quincy-based manufacturing facility that produces equipment for television communications transmitters. The students saw all aspects of the manufacturing process, from custom-cutting sheet metal to fabricating cabinets that house . . .
The Wolves were victorious over the Calhoun Warriors on September 11 th at the Franklin football field. The bucket game was very intense for the Wolves and Warriors to see who would win. At the end, the Wolves won the bucket back with the score of 32-28! Good job boys and hope you continue to have a good season and keep the bucket in Pike.
Current Highlights
On October 14 th , FFA will be going to North Greene for a Land-use competition. Land-use involves the management and modification of natural environment or wilderness into built environment such as settlements and semi-natural habitats such as arable fields, pastures, and managed woods. You will need to be there at 9:30 a.m. and it will start at 10:00 a.m.
Picture day is Tuesday October 20, 2015. Flyers will be sent home soon with school picture ID.
The P.C.C. chorus festival is Tuesday, November 3rd at Brown County High School. The students will leave at 10:30 a.m. from the high school. Rehearsal starts at 1:00p.m. The concert starts at 7:00 p.m. All friends and family are welcomed. There is a toll at the door but the price is unknown. There are five schools attending the concert. The concert will be about 45 minutes long. Abby Musgrave from Illinois college is the guest . . .