The Illinois 5Essentials Survey for 2015 is available now through Mar.13, 2015 to take online. ISBE states, "The 5Essentials Survey, a diagnostic tool developed by researchers at the University of Chicago, provides schools with fine-grained data on five leading indicators for school improvement: Effective Leaders, Collaborative Teachers, Involved Families, Supportive Environment and Ambitious Instruction." This survey asks many questions about your school, teachers, administration, and environment to get a grasp of what the parents and educators feel about their district. The results of the . . .
The basketball season is winding to a close. Regionals will be held next week at North Greene. The schedule is as follows: Mon., Feb. 23 Game 1 at 7:00 pm: (4) Greenfield [Coop] vs. (5) Jacksonville (Routt) Tue., Feb. 24 Game 2 at 6:00 pm: (2) White Hall (North Greene) vs. (7) Jacksonville (Illinois School for the Deaf) Game 3 at 7:30 pm: (3) Winchester [Coop] vs. (6) Pleasant Hill Wed., Feb. 25 Game 4 at 6:00 pm: (1) Carrollton vs. Winner Game 1 Game 5 at 7:30 pm: Winner Game 2 vs. . . .

As we all remember so well, there was no Christmas party last year due to misbehavior. Naturally, that means that this year we were overdue! The Christmas party, funded annually by Student Council, was a blast with all of the new and traditional activities! This year, Student Council president and vice president bought door prizes ranging from bubble wrap to movies to locker decorations. Everyone who attended the party put their name in the drawing and a name was drawn every two minutes or so. . . .
Current Highlights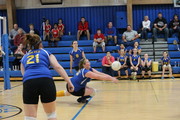 As the volleyball season started up, the team experienced several problems. They continued to attend practices when things didn't go as planned to work out the kinks. Now, in the heart of the volleyball season, the girls and their coaches, Mrs. Clowers and Ms. Robinson, have improved their game dramatically and they have a bright future for the rest of the year. There are five home games left so Wolves fans, get to the gym to cheer on our volleyball team!
After a long, wonderful Winter Break with a few extra days due to snow, students came back to Pleasant Hill High School to prepare for and take finals. Finals were Monday and Tuesday then Wednesday, January 14 every one got to start new. The day started off with an assembly where Mr. Lowe announced Becky Giles as the Positive Attitude Wolf of the Month for December. After that, students have been busy changing schedules and getting adjusted to new classes. The new semester also means other exciting news such as the chorus students . . .