The Illinois 5Essentials Survey for 2015 is available now through Mar.20, 2015 to take online. ISBE states, "The 5Essentials Survey, a diagnostic tool developed by researchers at the University of Chicago, provides schools with fine-grained data on five leading indicators for school improvement: Effective Leaders, Collaborative Teachers, Involved Families, Supportive Environment and Ambitious Instruction." This survey asks many questions about your school, teachers, administration, and environment to get a grasp of what the parents and educators feel about their district. The results of the . . .

Prom 2015 was a blast for everyone who attended. The theme was "Emerald City" from The Wizard of Oz. The juniors decorated the small gym with green paper and pink tissue flowers for Promenade. The dance was held at the Holiday Inn in Quincy and no smoke detectors were set off this year. Sounds like a successful night! After-Prom was at Scotty's Fun Spot until the wee hours of the morning. Great job, juniors on throwing an excellent event for the seniors!

The senior class participated in their last community service day on March 20th. The majority of them went to the park to work on cleaning out the dugouts, pulling weeds and vines, and sweeping off the pool parking lot. A few of them stayed at the school to clean out coolers. Despite the hard work that ensued, the class really enjoyed helping out. "If you've ever been around these clowns, you know that all work is also all play. We sing, we laugh, we make fun of each other. From time to time, we try to knock our . . .
Current Highlights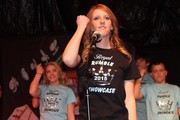 This year's Showcase had the small gym packed with fans! The theme was determined by the senior class, a group of all girls. They decided that it would be fun to have a pageant theme. Of course, it couldn't be a simple pageant. The girls opted for a very catty show with no shortage of laughter. "Royal Rumble" was a knockout by all accounts! Mother Nature tried to slow the group down by taking away two all-day practices. The cast trudged on and did very well, despite having less time to . . .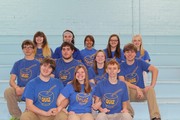 The Quiz Bowl team has done excellent this year. Regionals will be held in Piasa on Monday, March 9th. They will leave at 2:15 P.M. The schedule is as follows: Match 1 at 4:30 pm: (1) Piasa (Southwestern) vs. Bunker Hill Match 2 at 4:30 pm: Staunton vs. Pleasant Hill Match 3 at 4:30 pm: (8) Winchester [Coop] vs. Hardin (Calhoun) Match 4 at 4:30 pm: Gillespie vs. Mt. Olive Match 5 at 5:20 pm: Winner Match 1 vs. Winner Match 2 Match 6 at 5:20 pm: Winner Match 3 vs. Winner Match 4 . . .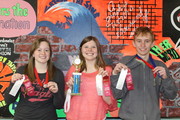 Pleasant Hill took a white bus full of potential to John Wood Community College in Quincy on February 11th and came home with medals, ribbons, and a trophy! Derek Dolbeare received a 1st place medal in Computer Science and 2nd in Engineering Graphics. Becky Giles was awarded a 2nd place medal in English. Ashley Holcomb received a 3rd place medal in Math and Justin Perez got 2nd in Physics. Derek, Becky, and Justin will advance to sectionals at Illinois College in Jacksonville on March 10th. Good luck!